Welcome to the Home of Boquete Panamá Real Estate!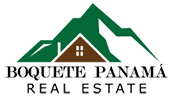 Our fully-licensed team is comprised of members from Panamá, the United States, and Colombia. Together, we have a combined 25 years of real estate experience dealing with property transactions primarily on the Western side of Panamá, and several more years of experience in other countries. We understand the cultural differences when doing business between locals and foreigners, and we are experts at bridging gaps to find success for our clients. We have served clients from a total of 26 countries so far.
Through these many years of experience, excellent working relationships have been established with key members of government, attorneys, and over 90 real estate brokers in Panamá. If you find yourself stressing out over finding your ideal property on the many Panamá real estate websites, please contact us with your ideal property description and future goals. If we do not have direct access to the properties you want to see, don't worry. Boquete Panamá Real Estate will be your agency and accomplish your goals through our many connections by working with other agencies on your behalf. The connections and relationships we have gained and maintained allow us to work with any other brokerage with no headaches for you. We have access to thousands of listings including residential, commercial, land, homes, businesses, beach, highlands, farms, and specialty properties. Let us help you and you will not be disappointed. Think of us as your personal MLS!
Boquete is one area of our expertise, but we also specialize in all other areas of the Province of Chiriqui, and the Province of Bocas del Toro. Whether you are a buyer or seller of real estate, we excel at providing an excellent customer experience, and at finding ways to solve difficult problems that arise when buying/selling real estate in the current real estate environment.