FOR SALE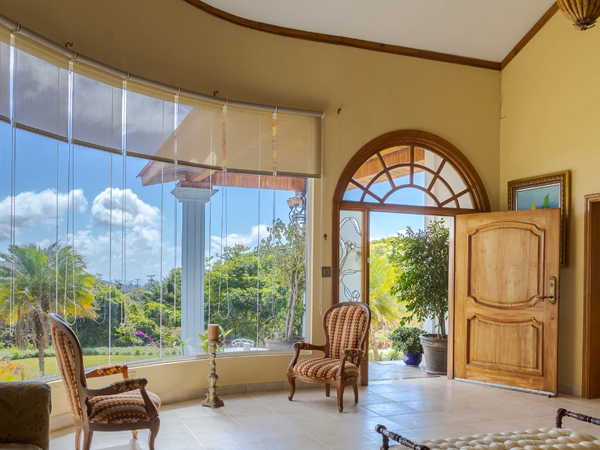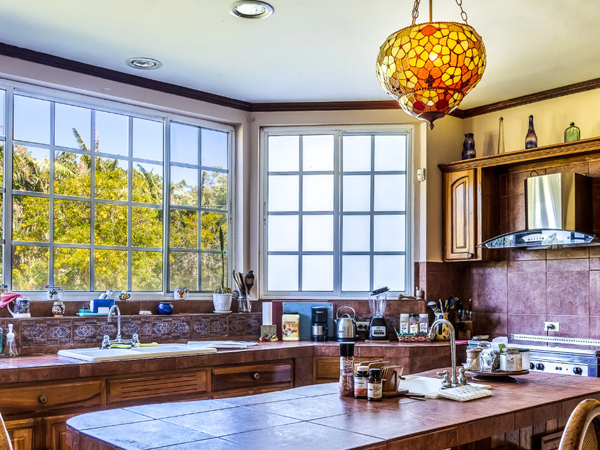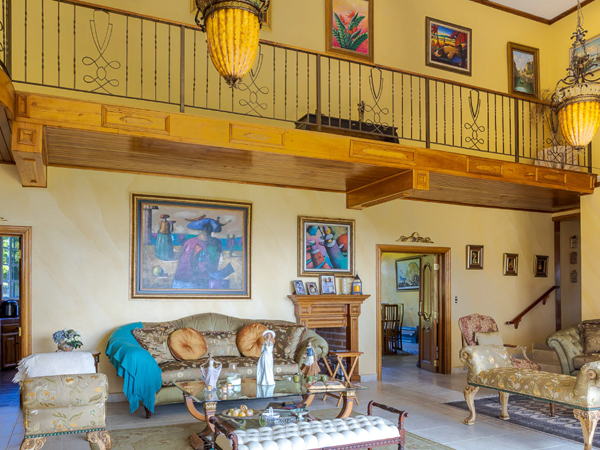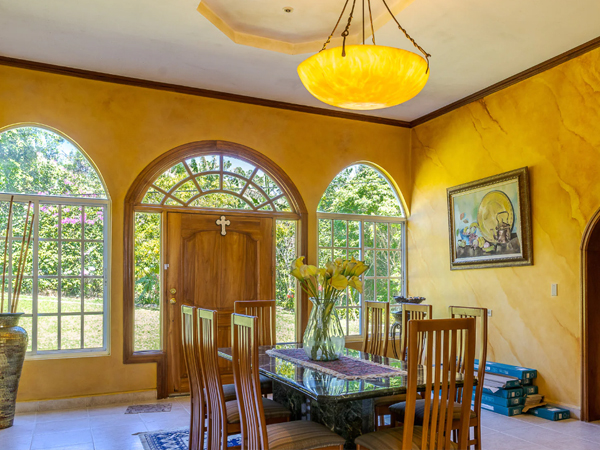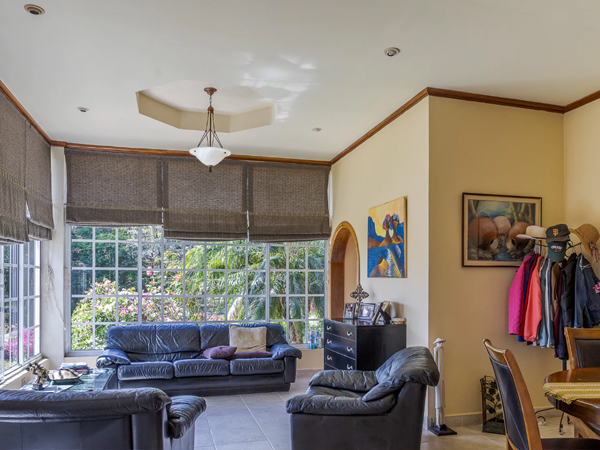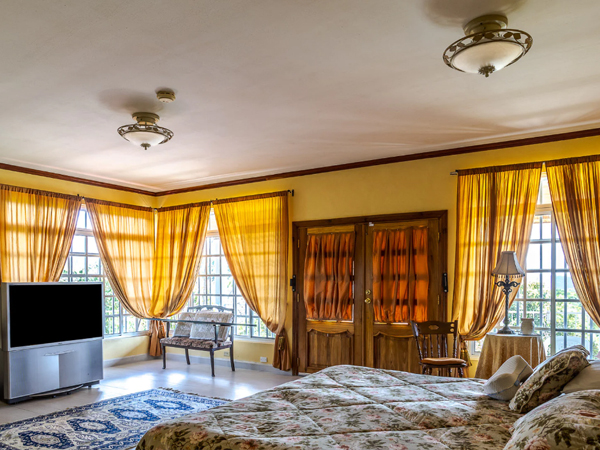 | | |
| --- | --- |
| Price | $699,000 |
| Status | FOR SALE |
| Listing ID | #051523 |
| Location | Santa Lucia, Volcancito, Boquete, Chiriqui, Panamá |
| Beds | 5 |
| Baths | 4.5 |
| Garage | Covered Parking |
| Living Area | 5,500 sq ft = 515 sq M |
| Lot Size | .68 acres = 2,739 sq M |
| Furnishings | Unknown |
Description
This exquisite property, situated on a flat land of 2,739.69 square meters, is immersed in breathtaking greenery, shrubs, trees, and bougainvilleas that frame this gorgeous house.
Upon arrival, you will be greeted by a covered parking area that can accommodate two vehicles, along with a beautifully planned and well-maintained garden. This two-story house is an impressive structure that boasts 515.94 square meters, over 5,500 square feet of living space.
As you enter through the beautiful, wooden front door, you will be welcomed by a double-height living room with metal and wooden frame stairs. The double height adds to the grandeur and elegance of the house. In the living room, you will also find a wide panoramic window that allows you to admire the scenic mountain views to the Talamanca mountain range from the inside. Additionally, on the ground floor, there is a spacious and functional family room with an additional entrance door.
The gorgeous and spacious dining room is in a separate room which provides privacy for enjoying your meals or entertaining guests. It also has its own private entrance to the property, another entrance to the living room and the stairs to access the basement.
The kitchen is equipped with ample workspace, spacious countertops, and a center island that provides more space for cooking or can be used as a breakfast bar. The large windows allow you to enjoy the beautiful views while you prepare delicious meals. The wooden cabinets and ample storage space add to its charm.
This mountain house features 5 spacious and comfortable bedrooms. The private balcony attached to the main bedroom offers breathtaking views of the surrounding mountains, making it the perfect place to enjoy a cup of coffee in the morning or watch the sunset in the evening. The en-suite bathroom features tasteful finishes, adding to the elegant atmosphere of the home. The remaining bedrooms in the house are equally beautiful, with windows that offer plenty of natural light and stunning views of the surrounding landscape. Each bedroom features ample closet space, making it easy to organize and store personal belongings.
The house also features a basement, where the laundry room is located. This space can be modified to your liking and offers more space for a purpose of your choosing. It features a beautiful glass door that leads to the garden.
The outdoor space of this property is truly a standout feature, providing an oasis of calm and relaxation a convenient and beautiful location. The expansive garden surrounding the house is beautifully landscaped, with lush green lawns, colorful flowers, and trees. Guayaba, Lemon and Banana trees can be found in this beautiful garden. This meticulously maintained outdoor area creates a tranquil and welcoming atmosphere, ideal for hosting events, family gatherings, or simply unwinding after a long day.
The stream adjacent to the house adds to the natural beauty of the surroundings, offering the soothing sound of running water and creating a picturesque setting for outdoor activities.
This majestic house for sale also includes a backup water tank system, fireplace, irrigation system and maid's quarters.
Another great benefit of this home is that it is so convenient. It is only a minute to the main road between Boquete and David and about 5 minutes to downtown Boquete.
It is also an easy walk to the Santa Lucia Country Club and is at the entrance to the great Santa Lucia neighborhood.
About Santa Lucia, Boquete, Panama
Santa Lucia is one of the most desirable neighborhoods in the beautiful town of Boquete, Panama! With its picturesque views and lovely surroundings, this is the perfect place to call home. Located just a 5-minute drive or a 30-minute walk from downtown Boquete, you'll enjoy the best of both worlds - peace and tranquility in a friendly neighborhood and easy access to the hustle and bustle of the town center.
One of the exciting features of living in Santa Lucia is the beautiful Santa Lucia Country Club, where you can enjoy a refreshing swim in the pool, a game of tennis or simply relax in the recreational areas. With an optional and affordable membership, it's a great way to connect with your community and make new friends.
The neighborhood of Santa Lucia is known for its high-quality living and no home owner association dues. The flat paved streets, combined with the stunning views of Volcan Baru, make for wonderful walks and bike rides, and the elevation and microclimate provide a comfortable and healthy living environment.
And speaking of comfortable, being at 4,000 feet of altitude in Boquete means great temperatures all year. Santa Lucia is known for its excellent microclimate too.
Whether you're looking for a place for your family or a peaceful retirement home, Santa Lucia has everything you need. With its close proximity to downtown Boquete, quality neighborhood, and great community features, it's no wonder that lots and homes in Santa Lucia are highly desirable. Don't miss this opportunity to secure your own piece of paradise in Boquete.
This particular home and property is an excellent investment opportunity for those looking for a Santa Lucia home that is the perfect blend of luxury, comfort, and natural beauty.
---
Map Location